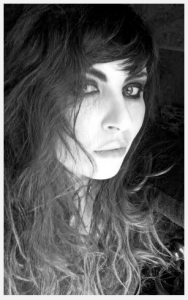 I'm K. — a professional writer, comicker and graphic designer. I reside in Columbus, Ohio with spouse and frequent collaborator, A. Stiffler. I write, I draw, I create. I'm not afraid of being honest, raw and horrific.
My content may not be suitable for minors.
——————————————————————————–
---
SELECT ANTHOLOGIES:
Smut Peddler 2014 – A Sex-Positive Comic Anthology by IronSpike

(The Last Word – Writer) 
A kinky, queer romp with a hidden message.
Beyond Anthology – A Queer Scifi/Fantasy Anthology by Beyond Press
(The Next Day – Writer)
A tale of darkness, love and finding the light.
Blood Root Issue #2 – A Horror Anthology by Shing Yin Khor 
(Sweets – Writer)
A deliciously twisted story sprinkled with life lessons.
---
SELECT COMIC PUBLICATIONS:
FindChaos: (Writer/Flatter)
An ongoing queer horror graphic novel. 
ChaosLife: (Co-Writer/Colorist)
Autobiographical humor, political and cat comics. 
Lesbians 101:(Co-Writer/Colorist/Layout)
A down-and-dirty FAQ for lesbians, lesbian-questioners and everyone else. 
---
Short Horror Comics
Every Day (Writer)
A tale of bittersweet romance and everlasting love, with a twist. A lot of people might not understand this comic the first time around, which is why we recommend it's read twice. It's not a puzzle, but it is subtle.
Forever (Writer/Co-Colorist)
A tale to show a true reflection.
A horror story for the mirror aficionados or the mirror-phobic, to be sure. 
Never (Writer/Co-Colorist)
The third and final comic in our Little Horrors series! If you haven't read this one before, it's NSFW and deals with the subject of sexual violence. We hope that won't scare you off, as it's a very personal story and ends better than you might imagine. It's also one of our most detailed comics — the background images were completely handmade and the comic itself was created using sumi ink.
Buy the 3-Short Horrors Collected at GumRoad!
---
Social Media Links: